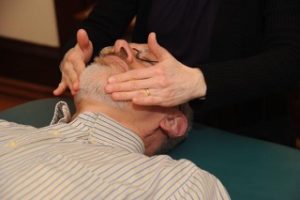 Biodynamic Manual Voice Therapy (BMVT) is a gentle hands-on, integrated approach used to address the structural components related to vocal function, speech and swallowing.  The word 'bio' means life and 'dynamic' refers to motion, change and progress.  In BMVT, the therapist works in tandem with the patient to improve mobility, symmetry, coordination and strength in the structures necessary for respiration, phonation, articulation, resonance and swallowing.  Function is restored through seamless integration of a variety of manual therapy techniques, including Myofascial Release (MFR), Strain-Counterstrain (SCS), Muscle Energy (ME), Visceral Manipulation (VM) and Craniosacral Therapy (CST).
Students will be taught palpation skills, as there is a great deal of emphasis on developing sensitivity as a means for specific evaluation and treatment.
BMVT is a holistic therapy. Students will also learn to facilitate healing and growth by supporting the mind, emotions and spiritual health of their patients.
---
Subscribe
To stay informed about upcoming workshops please join the mailing list below:
---
Workshop Testimonials
"I just wanted to let you know how much I enjoyed your workshop. I have attended several hands-on training with SLP's and yours was the best organized and monitored … The fact that there were two of you closely monitoring the room so any uncertainty, question or level of contact was monitored was exceptional. Thank you. I hope to be able to attend round 2."

— Marina Gilman, MM, MA, CCC-SLP —
"As a singing voice teacher, I work alongside laryngologists and voice therapists helping injured singers regain their voice, as well as work with high-level Broadway performers. The hands-on work I learned with BMVT Level I has absolutely changed my practice. The work is extraordinary for injured singers who almost always come with excessive, compensatory tension. They are shocked at how good they feel once they get off the table and start singing again. They can feel, sometimes for the first time in a long time, how it feels to sing without the excess tensions they used for so long. I've also been looking for ways to help my Broadway performers navigate the fatigue and residual tension that comes from performing 8 shows a week (plus press events, rehearsals, etc.) and BMVT is the solution. One of my clients called me a "witch doctor" after his first session because his big number in the show felt easier than it ever had after we did some BMVT work on my table. I also use the work with my other clients and students who have standard excess tongue, jaw, or other tensions, and the results are the same–they love it. I cannot recommend this course enough. I am a different practitioner because of my work with Michele, and I can't wait for Level II."

— Amanda Flynn, Voice teacher, Vocologist —
"This is a great course, I highly recommend it. The small group set up allows ample of hands on and individual attention and feedback. Michele is very knowledgeable and has developed a simple effective protocol to follow in addition to many more manual techniques."

— Hadas Golan, MS CCC-SLP —
"I highly recommend this course! Very important tools to have!!!! After I took Michele's course I began using these techniques on almost ALL my voice patients!!!!! And Michele is an amazing teacher!"

— Barbara F. Worth MS CCC-SLP —