Bidoynamic Manual Voice Therapy Level 2 (BMVT2)
Next Class: Date: November 13-15 2020
Early-Bird Registration Fee (before August 13 2020): $550
Regular Registration Fee (after August 13 2020): $635
For information and updates, as well as course registration details, please subscribe here.
This 3 day workshop will be held at Guest House, a beautifully renovated country inn on private wooded land in Chester, CT. Attending the workshop in this retreat style environment will allow for more in depth learning and for you to gain new skills in order to help your patients. It is also an opportunity to Relax and nurture yourself. Conveniently located midway between New York City and Boston, Guest House is easily reachable via major highways or by train. Meals are healthy and delicious.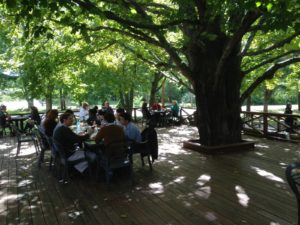 Room Rates:***All prices for this workshop include: Tuition for 3 day workshop, Accommodations for 2 nights(except commuter fee), and 3 wonderfully prepared meals per day (total of 6 meals altogether).
Single rooms: $203 per person (per night)
Doubles room: $157 per person (per night)
Triple Rooms: $139 per person (per night) (three bedrooms with three beds, or rollaway cots may be added)
Commuter Rate: $71 per person (per day, 3 meals)

*Course Tuition may be paid by credit card. Payment for accommodations is by check only made out to Clear Voice Therapy, LLC and needs to be received by April 1 2019.
Click here for time ordered agenda.
** Please note that there is a Friday evening program. Arrival begins 1pm on Friday and class starts promptly at 2pm.
**Optional Program Saturday Night: Sound Retreat https://www.thesoundretreat.com
Workshop Description
This three-day course focuses on learning specific techniques to influence the vocal mechanism and mechanics of swallowing. Strain-Counterstrain will be introduced alongside new Muscle Energy, Craniosacral Therapy and Myofascial Release techniques. There will be a focus on learning to integrate these various tools. The use of Manual Therapy as evaluation to determine appropriate interventions will be emphasized. The areas of respiration and laryngeal function will be addressed as well as the jaw and palate.
We will also begin to incorporate the use of dialogue for connecting mind-body-emotions to voice and structure, which can allow for deeper healing.  This system of dialogue is informed by the work of Dr. Peter Levine (Somatic Experiencing), as well as other mindfulness practices.
Learning Objectives:
Describe at least 3 ways to influence the respiratory system with manual therapy.
Explain Muscle Energy Technique and Strain Counterstrain and describe when to utilize them.
Describe evaluation and treatment techniques using manual therapy and explain how this can help with voice and swallowing disorders.
Describe which manual therapy techniques can be used to target muscles of mastication.
Describe different ways to influence the laryngeal muscles using manual therapy.
Apply Manual Therapy Evaluation and Treatment techniques as demonstrated.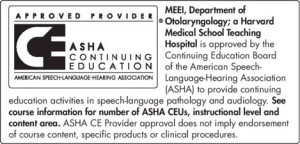 1.7 ASHA CEU's Intermediate Level; Professional Area (pending)
Disclosure: Michele Fava has no non-financial disclosures to make. She has the following financial disclosures to make. She takes a salary from Clear Voice Therapy, LLC and collects consulting fees in association with this. She owns intellectual property rights in association with Biodynamic Manual Voice Therapy.