Bidoynamic Manual Voice Therapy Level 1 (BMVT1)
May 1-3 2020:
Regular Fee: $635 (after March 1,2020)
Early-Bird Fee: $550 (before March 1, 2020 )
For information and updates, as well as course registration details, please subscribe here.
This three-day course is designed to introduce the speech therapist to manual therapy evaluation and treatment principles and techniques. The fascial system and myofascial release techniques are the primary emphasis, though all types of manual therapy will be discussed. The course will concentrate on general palpation skills as well as a 6-step protocol for voice and swallowing patients.
Learning Objectives:
Identify different types and purposes of Biodynamic Manual Therapy

Describe the basic anatomy and physiology of the respiratory, phonatory, resonatoy/articulatory and nervous system

Describe the implications for Biodynamic Manual Therapy as related to specific voice and swallowing disorders

Apply Biodynamic Manual Therapy Evaluation and Treatment techniques for each sub-system as demonstrated

Complete a 6-step protocol appropriate for your voice/speech/swallow patients
Click here for Time-Ordered Agenda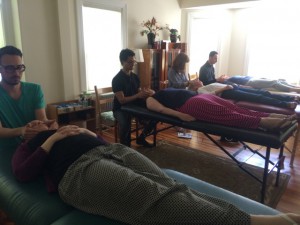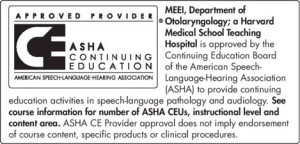 This course is offered for up to 1.95 ASHA CEU's; Intermediate Level; Professional Area.
Disclosure:
Michele Fava has no non-financial disclosures to make. She has the following financial disclosures to make. She takes a salary from Clear Voice Therapy, LLC and collects consulting fees in association with this. She owns intellectual property rights in association with Biodynamic Manual Voice Therapy.
Cancellation Policy:
If we need to cancel a BMVT course for any reason, a full tuition reimbursement will be issued for each participant. However please be aware that we are not liable for any costs other than for the tuition already paid including any travel expenses or lost fees.\
If a registered participant wishes to cancel prior to a course, submission must be in writing. If cancellation occurs 60 days before the workshop, a full refund of the tuition less $100 administrative fee will be provided. Cancellations made 35-60 days before a workshop will be refunded 50% of tuition paid. Cancellations less than 35 days from the course start date are not eligible for any refund.